What is AIESEC?
AIESEC is a non-governmental, not-for-profit, youth-led global organization. It was established back in 1948 after WWII with the aim of empowering youth and promoting world peace. Today, AIESEC is delivering cross-cultural leadership development experiences to thousands of young people in over a 125 countries and territories around the world. It gives them the opportunity to discover and fulfill their potentials, while living diversity and gaining a better understanding of the world.

I joined AIESEC's local office—known as a Local Committee (LC)—in Alexandria (Egypt) back in January 2014, as a member in the marketing team. It didn't take long until I became their main graphic designer, working—with the help of my fellow teammates—to create most of the visual materials needed for the LC's marketing communications.
Over the course of ten months (Feb 2014 – Nov 2014), I have proudly created tens of designs for AIESEC in Alexandria; from digital designs intended for the social media, to print artworks promoting AIESEC inside college campuses, at one of the city's biggest job fairs, and at other events and venues as well. Out of this wide portfolio, I handpicked the ones below.
1. Host an Intern:
Host an Intern—originally called "Host Families"—is a program that invites local families to host foreign young people who take an AIESEC volunteering internship in Egypt. Due to the relatively conservative traditions adopted by a wide range of the society, it is very challenging to convince a typical Egyptian family to host an absolute stranger and have him/her live at their home for a period of time that goes up to 6 weeks. For that reason it was necessary to launch a campaign seasonally—or whenever there is a need—to promote this program and address its values.
For that specific campaign, we changed the name from "Host Families" to the more obvious "Host an Intern", and developed a theme that promotes cultural understanding. I designed a badge with the campaign's name, and chose "Break Stereotypes" as the campaign's tagline.
In addition to the printed flyer shown above, I also created a set of 12 online posts, each correcting a misconception or breaking a stereotype about a specific country—in a slightly witty manner. Below are samples from the campaign.
2. Professional Internships:
AIESEC in Alexandria asked me to create online posts announcing international paid opportunities available abroad for Egyptian young people. The internships were classified into 3 main areas: Business, IT, and Teaching.
The designs needed to include all the main details of each vacancy that an applicant would normally need to know, rather than writing them in the caption—which many people may simply overlook. Though that made enough sense, but it also created a design challenge to make the posts very informative, yet visually appealing.
Luckily—for me—the posts were not planned to be boosted as paid online ads, so I didn't need to worry about them being rejected by Facebook for containing too much text. Nevertheless, I was very careful to make sure all the text would be legible and clear enough on all the materials.
Using the portrait orientation for Facebook posts is probably something I rarely do, but this time it felt just right. Filling half of the design horizontally with a picture, though might sound a bit inefficient, but it was a great way to balance the text-heavy posts and make them rather more engaging. The designs were color-coded to mark each of the three internship categories as follows: green for business, blue for IT, and red for teaching.
Below are 3 samples of the posts (personal and other sensitive data was replaced by dummy text for the sake of privacy).
3. Alexa Job Fair 2014:
'Alexa' is one of the biggest employment fairs held annually in the city of Alexandria, Egypt. In 2014, it was the first time for AIESEC in Alexandria to participate in this event as an employer, offering professional opportunities for both college students and fresh graduates.
I designed a set of three roll-up banners for the event. The banners were all based on one layout design, but each highlighted one of the three professional opportunity portfolios provided by AIESEC; Business, IT, and Teaching. This was one of the very first projects I work on for AIESEC, and it happened to be a big success—proudly.
In July 2014 I had the chance to work with AIESEC on a national level for a whole year, by working as a graphic designer in the National Support Team of AIESEC in Egypt—along with my original role at the local office. I was also lucky to work on the regional level once, through a project planned and run in collaboration with multiple AIESEC offices in the Middle East and North Africa 
(project link to be added soon)
.
It was a really amazing experience seeing my designs being adopted by all the local offices (LCs) across Egypt, and then reaching thousands of young people all over the country. The fact that I was part of this process, helping youth to develop their skills and leaving a positive impact on their lives is something that makes me very proud, and also glad for having such a great opportunity.
Below are some of the work I created for AIESEC in Egypt.
1. Volunteering Experiences:
Global Citizen*—later renamed "Global Volunteer" instead—is an AIESEC program offering international volunteering opportunities for college students and fresh graduates in different areas, which mostly revolve around community development and cultural understanding.

2. Youth to Business Forum:
Youth to Business (Y2B) is a recurrent event organized independently by many AIESEC offices around the world. It creates a space where young people can gain real-life insights about the business world by connecting with corporations and professionals in diverse specialties. The forum is also a perfect place for youth to discuss current emerging local and global issues with experts and thought leaders.
AIESEC in Egypt often organizes a new version of Y2B once or twice per year. The duration of the event depends on the set agenda; it may vary from a single day to a whole week. I was asked to work on a digital campaign for Y2B Week, organized by AIESEC in Egypt mid-2015. Below are the designs I created for the event.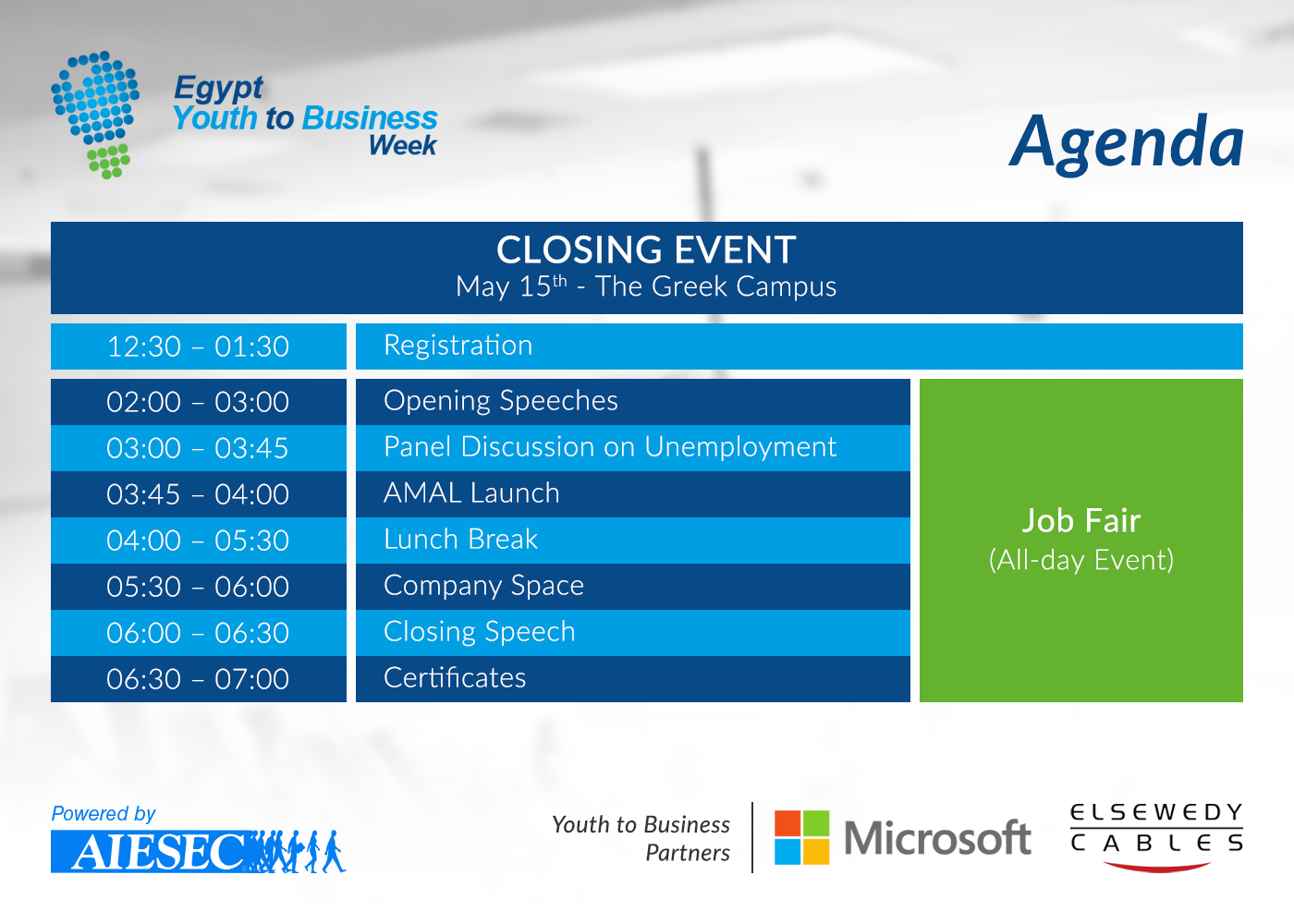 3. The Leadership Campaign:
AIESEC believes that youth leadership is not an option; rather, their own responsibility. In 2015, AIESEC in Egypt decided to launch an online campaign shedding light on what AIESEC is essentially about; leadership. I developed the campaign's visual concept, and designed most of its digital materials. The designs featured quotes on leadership, mostly by very influential world leaders and public figures.
4. AIESEC in Egypt Brochure:
One of the very successful designs I created for AIESEC in Egypt was a tri-fold brochure providing general info about the organization and its two main programs at that time; Global Citizen and Global Talent.
5. National Campaign (2016):
Almost a year and a half after my role at AIESEC in Egypt had ended, I was invited to work on a standalone project, once again on the national level. It was an online campaign promoting the three main AIESEC programs: Global Volunteer, Global Talent, and Global Entrepreneur. While the latter two provide professional experiences, Global Volunteer was special; as AIESEC International has devoted this program to support the
17 Sustainable Development Goals (SDGs)
 of the United Nations. AIESEC International also launched
"Youth for Global Goals"
 initiative to further create more awareness of the UN's SDGs among youth.
The plan was to keep the campaign simple and straightforward, yet enthusiastic and fresh. I created the campaign's theme from scratch and came up with the tagline "It's your turn!". While working on the visuals, I added the shape of a turning page with the tagline written on its corner, fixed as a primary element in the theme. It represented the other definition of the word "turn" from the tagline, as in turning a page—pun intended!

While the tagline
served as a general slogan motivating young people to take an action, each program had a unique one-word description indicating its main value. "Change" was chosen for Global Volunteer, "Develop" for Global Talent, and "Innovate" for Global Entrepreneur. The relation between the campaign's tagline and a program's description was: Action-Result.
Employing the official colors used to represent each of the three programs, along with AIESEC's—updated—light blue color created a logical color-coded hierarchy; the AIESEC brand was the big umbrella, and all of the three programs fell on one level underneath it.

Below are the materials used in launching the campaign on Facebook; one post introducing each program (the ones with big logos), followed by a more informative post with the relevant details.
Challenges
Designing for an NGO like AIESEC was not as smooth as it may sound, especially in the beginning. Lack of resources and original media—like images—was one of the main challenges I had to deal with continuously. Given the tight budget we were on, it was not easy to set up an original photo shoot, neither to purchase as many stock media as needed. After all, AIESEC is run by young people—mostly students—so the resources we had access to were not always enough. Searching for free media assets online, that are relevant, appealing, of acceptable quality, and in the same time allowing for commercial use was a very hard task, and sometimes nearly impossible. The use of graphical elements (i.e. shapes, vectors, patterns, and color areas) instead of real images was one solution on which I relied very often to overcome the shortage of original photos.
Another point which might not be necessarily relevant to other NGOs: AIESEC—by its nature—is a very dynamic platform allowing young people to experience a professional environment, sometimes for the first time ever in their lives. A considerable part of the work we did was a matter of trial and error. Sometimes strategies were not clear enough, and very often plans were changing dramatically in the last moments. That sure had an effect on the quality and effectiveness of the final work, sometimes leading to not-so-great results. Nevertheless, that was all part of the experience to which I eventually learned to adapt and embrace its imperfections.
Testimonial
I was once told that, in a way, I have contributed in setting a new benchmark for the quality and professionalism of the communication materials published by AIESEC across the country. That testimonial has definitely made me very proud and happy to see how influential my work really is, not just on the professional level, but also in the way it can positively affect the lives of other people.